According to the latest figures from Internation Data Corporation (IDC) market analysis, Apple and Samsung continue to dominate the smartphone market. However, the companies have seen their shares slip in Q2 of this year compared to what they had last year.
Of the estimated total of 237.9 million smartphones shipped this past quarter, Samsung accounted for some 72.4 million units, or 30.4%. Despite shipping more units in Q2 than for the same period of last year, Samsung's market share dropped from 32.2% due to seasonal sales rates and lost market share to up-and-comers like LG and Lenovo.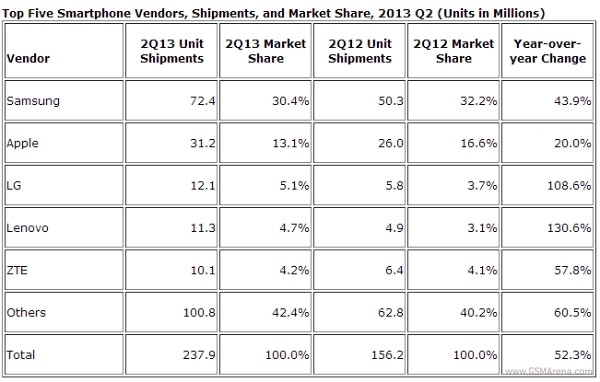 LG was able to ship 12.1 million units in Q2, giving it a 5.1% market share, while Lenovo sold 11.3 million units, or 4.7%. Those two saw their shipments increase by 108.6% and 130.6% YoY, respectively.
Apple, meanwhile saw its market share drop by almost a quarter to 13.1% in Q2. The (highly) rumored release of a budget iPhone model alongside the iPhone 5S should hopefully bring things back for the Cupertino-based company, but the effects of those will only be properly felt in Q4.
The lost market share is likely of little concern to either Apple or Samsung, as both are raking in huge profits from their smartphone offerings. Particularly Samsung, who is celebrating a record $8.5 billion profit for Q2.
Judul:
IDC: Apple and Samsung lose market share in Q2
Rating:
100%
based on
99998
ratings.
5
user reviews.
Ditulis Oleh
10.12
Artikel Terkait Mobile :